N-Bio101 W
Perfect solution to your Multibio attendance needs.
A Better for the Best Model – Face detection, Fingerprint & RFID card forming Multi Verification model for the advancement of the User, perfect solution for Multi bio attendance needs features. This device can easily be placed on top of the table, easy to install on wall and integration with turnstile. Finely crafted a shining black body along with grey edges, this device have feather touch keypad for a mesmerizing experience.This model has feather touch keypad for convenient user interaction. Hoping for a lag free user experience, this embedded LINUX based processor powers the device for smoother than butter operations. Never lags and adequate power from within to boost up everyday process. Double the Power of Detection with — Auto locate the face of the user without under normal as well as low light scenarios. Fingerprint Sensor made from our very own classy technology, it will leave the users star struck when it will easily sense and verify fingers with ink stain or mehndi finger. Adapt seamless Communication, we have the Wireless connectivity as well as LAN but if you are worried about Internet in Remote Areas, Behold the power of 4G GPRS connectivity. It uses 4G Sim Card to push the attendance data from device to your software. Using USB we can upload and download users and logs from device.
Normal User, Admin, and Super-admin roles can be created to have a control over any unauthorized person manipulating the device setiings. Alpha numeric Employee code for the flexibility in the name and identity value for the user. For usage in absence of power supply you can add external battery which can work as a power source. Lock your Premises, use it as Access Control to permit the entry and exit of the room. N-Bio101 supports Rs485 reader, Wiegand Reader, Remote Push Button, No Touch and many more exit side accessories.
Description
Multi-Bio Time Attendance and Access Control System
Storage Capacity
Face Capacity : 2000
Finger Capacity : 5000
Card Capacity: 2000
Log Capacity : 1,50,000
Password Capacity : 3000
Max. User : 2000
Processor : 1GHz
Communication
TCP/IP, Wi-Fi, RS485, USB Host & Client
Push Data : Yes
OS : Linux
4G GPRS / GPS : Yes (Optional)
Audio/Visual
Display : 2.8'' IPS LCD color screen
Voice instruction : 16-bit Hi-Fi voice & sound indication
Language : English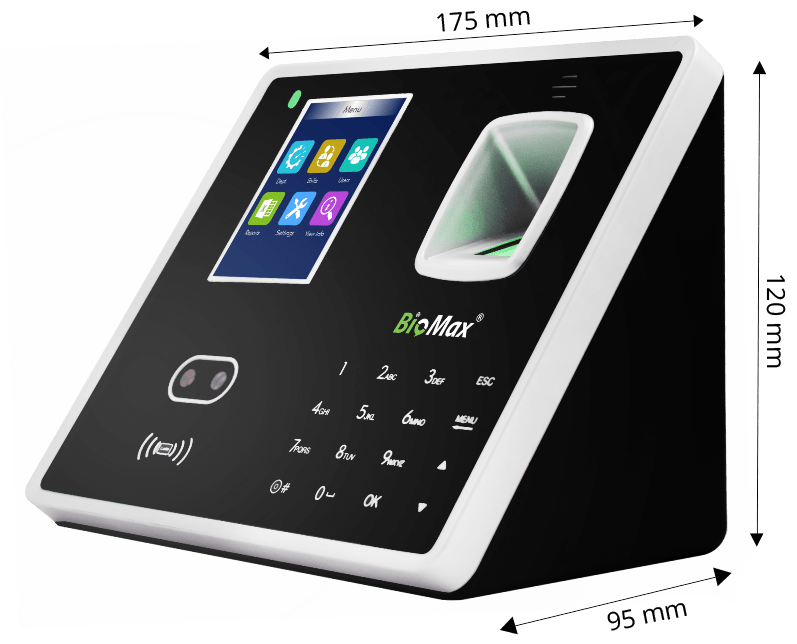 Biometric
FAR : 0.01%
FRR : 0.001%
Sensor type : 500 DPI
Identification Mode : Face, Fingerprint, Card, PIN
Access Control
Wiegand : Input / Output
Relay : Yes
Support : N-FR12, KR26E, Remote, Push Button, No Touch
Power & Environment
Battery : Optional
Operating Temperature : 0°c ~ 50°c
Power : 12V DC / 2A
Dimension (L*H*W) : 175 x 120 x 95 mm