N-BioAccess
Gracefully Engineered N-BioAccess delievers the best where it is about securing the
premises with a keen look on the accessing data user.
Gracefully Engineered N-Bio Access delivers the best where it is about securing the premises with a keen look on the accessing data user. This fully loaded device don't miss out any option a user requires to secure its area, specially designed to provide the stability in terms of working as well as adding a style quotient to your premises. Looking at the vertical make this model thst fits perfectly into the interior of your premises providing a gorgeous look. User gets an on-evice feather touch keypad function in this model that is surely an eye turner in its own. Style is the main factor here that makes this device so much popular, vertical design, silver curve along the edges and fits into smaller places. It holds a cutting edge processor implemented which never lets the User interface lag at any time. Moreover LINUX based OS that leads an unmatchable user experience. Wi-Fi (wireless) connectivity which helps user to connect the device wirelessly to the software, TCP/IP protocol (LAN) for wired connectivity makes this model even more reliable.
USB function to take offline data using a pen drive as well as transfer the users and data from one to another device. Some features like User Expiration, Online Enrolment, Upload and Delete Users are also possible with N-Bio Access. N-Bio Access device cand be used as Access Control with Finger Print and Card reader. Also we can use Push Button (Switch), No Touch Switch and Wireless Remote as exit option. Feature of Anti-Pass back so that there is complete transparency of person present inside are legally verified. Keep your premises secure with its potent access control feature. The liberty to use your choice of exit option, use this device with RS485 reader, Wiegand reader, Exit switch, No Touch sensor, Wireless Remote etc.
Description
Fingerprint Time Attendance & Access Control System
Storage Capacity
Finger Capacity : 10,000
Card Capacity: 10,000
Password Capacity : 10,000
Max. User : 10,000
Log Capacity : 1,50,000
Communication
TCP/IP,WIFI, RS485, USB Host
Push Data : Yes
OS : Linux
Audio/Visual
Display : 2.8″ TFT LCD color screen
Voice instruction : 16-bit Hi-Fi voice & sound indication
Language : English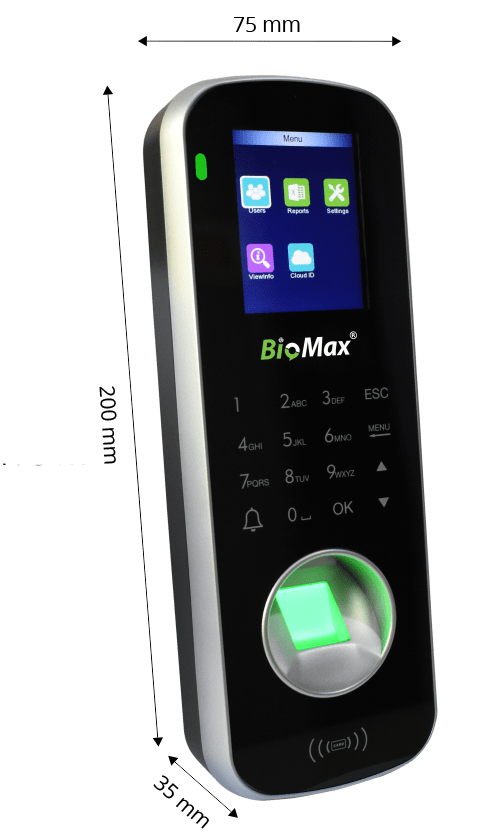 Biometric
FAR : 0.00001%
FRR : 0.001%
Sensor type : 500 DPI
Identification Mode : Fingerprint, Card, PIN
Access Control
Wiegand : Input/Output
Relay : Yes
Support : RS485 Reader, Wiegand Reader, Remote, Push Button, No Touch
Power & Environment
Operating Temperature : 0°c ~ 50°c
Power : 12V DC / 2A
Dimension (L*H*W) : 75 x 200 x 35 mm