N-BM22 FC
N-BM22 FC tops the list in matter of style and decency it adds to your place. This device consists of the looks, features and performance an company needs to organize attendance for them.
To give your office a decent look, our team came up with the idea of N- BM22FC. A device specially designed to provide the stability in terms of working as well as adding a style quotient to your premises. Style is the main factor here that makes this device so much popular, vertical design, silver curve along the edges and fits into your interior. Looking at the vertical make as well as touchscreen function this model is surely an eye turner in its own. N – BM22FC is Finger & card acceptance device with the capacity of 10,000 for both respectively, and high Log capacity of 2,00,000 tht is adequate. Multiple Authentication Enrollment of user can be done with authentication of Fingerprint, RFID Card & Password. N-BM22FC is facilitate with different verification mode as FP/P/C, P+FP, C+FP A CPU has been implemented across this device, it never lets the User interface lag. Moreover LINUX based OS that leads an unmatchable user experience. WiFi (wireless), TCP/IP protocol (LAN) for its user makes this model even more adorable USB Connection port available for downloading logs & report files as well as in the case of updating firmware.
Keep your premises secure with its potent access control feature. It can configure with FR12 Reader for Fingerprint scan & Wiegand reader for card scan with Anti pass back facility. Device is facilitate with option Initial to reset & upgrade Device has a best functionality for controlling the lock system, user can set accessing time zone and enable Anti-Passback to authenticate users. As well as temper alert can be set for device, which gives better security to the clients. Facilitate with alarm options if punch has been done by any unauthorized person. N-BM22FC with status functions like check in check out, Break IN/OUT. Work code options can be set for canteen, break, OT and many other purpose.
Description
Multi-Bio Attendance and Access Control
Storage Capacity
Face Capacity : 1000
Finger Capacity : 10,000
Card Capacity: 10,000
Log Capacity : 2,00,000
Password Capacity : 10,000
Max. User : 10,000
Communication
WIFI, RS485, TCP/IP, USB
Push Data : Yes
OS : Linux
Audio/Visual
LCD : 2.8″ TFT color screen
Voice instruction : 16-bit Hi-Fi voice & sound indication
Language : English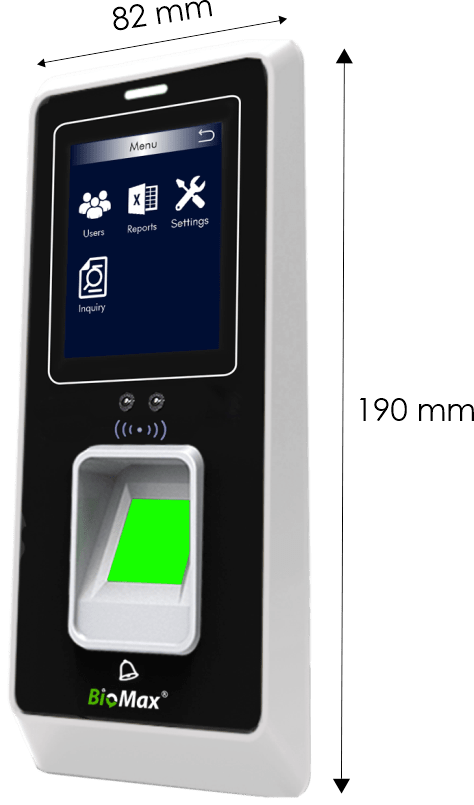 Biometric
FAR : 0.01%
FRR : 0.001%
Sensor type : 500 DPI
Identification Mode : Fingerprint, Card, PIN
Access Control
Wiegand input/output : Yes
Relay : Yes
Anti Passback : Yes
Support : RS485 Reader, Wiegand Reader, Remote, Push Button, No Touch
Power & Environment
Operating Temperature : 0°c ~ 50°c
Power : 12V DC / 2A
Dimension : 190 x 82 x 30 mm