N-Access10
N – Access10 is the latest access control system which is built to fit in smaller places and deliver max security to your premises. It offers multiple modes of verification – Fingerprint, RFID card, Password. This being an access control device so with that we can control entry in that room. We can verify users by dual verify mode which is either Fingerprint and RFID card or Fingerprint and password, user can use any combination of these two verification mode. N-Access10 supports up to 500 Fingerprints, 500 RFID cards that is more than enough for any organization. This is very safe and secure device because this device has its own and different method to operate, so any normal person can't change in the device settings. a special function of ADMIN as 2 passwords for modification in the settings of the device. For securing any area connect Electro Magnetic Lock, Bolt or Strike lock with this device that goes with type of your door. We can connect a push button which is used on the inner side of the room to open or close the door in any emergency situation and allow the access to any non-registered users. This device has inbuilt bell facility from that we can connect bell with device and operate bell from device. This is one of the best and reliable device for the employer who needs to control the users or employee to access any prohibited area.
BioMax has been into Biometrics business since its establishment in the year 2014. We offer a wide range of products, which includes Fingerprint, RFID, Palm and Facial Time & Attendance, Access Control, Single and Multi Door Access systems, Biometrics based enrollment solutions. Being India's one of the best and Fastest growing company dealing in Biometrics solutions, we constantly strive for more enhanced and quicker solutions. This opens the door for better customer relationship which is the foundation of our company. We are determined to raise the stakes in the Biometrics industry by constantly and effectively providing best services to our partners.
Fingerprint Access Control System
Storage capacity
Finger Capacity : 500
Card Capacity: 500 (non-standard)
Code Count (Password) :2
Audio/Visual
Display : Black-white LCD screen
Verification Mode: Fingerprint, Card, Password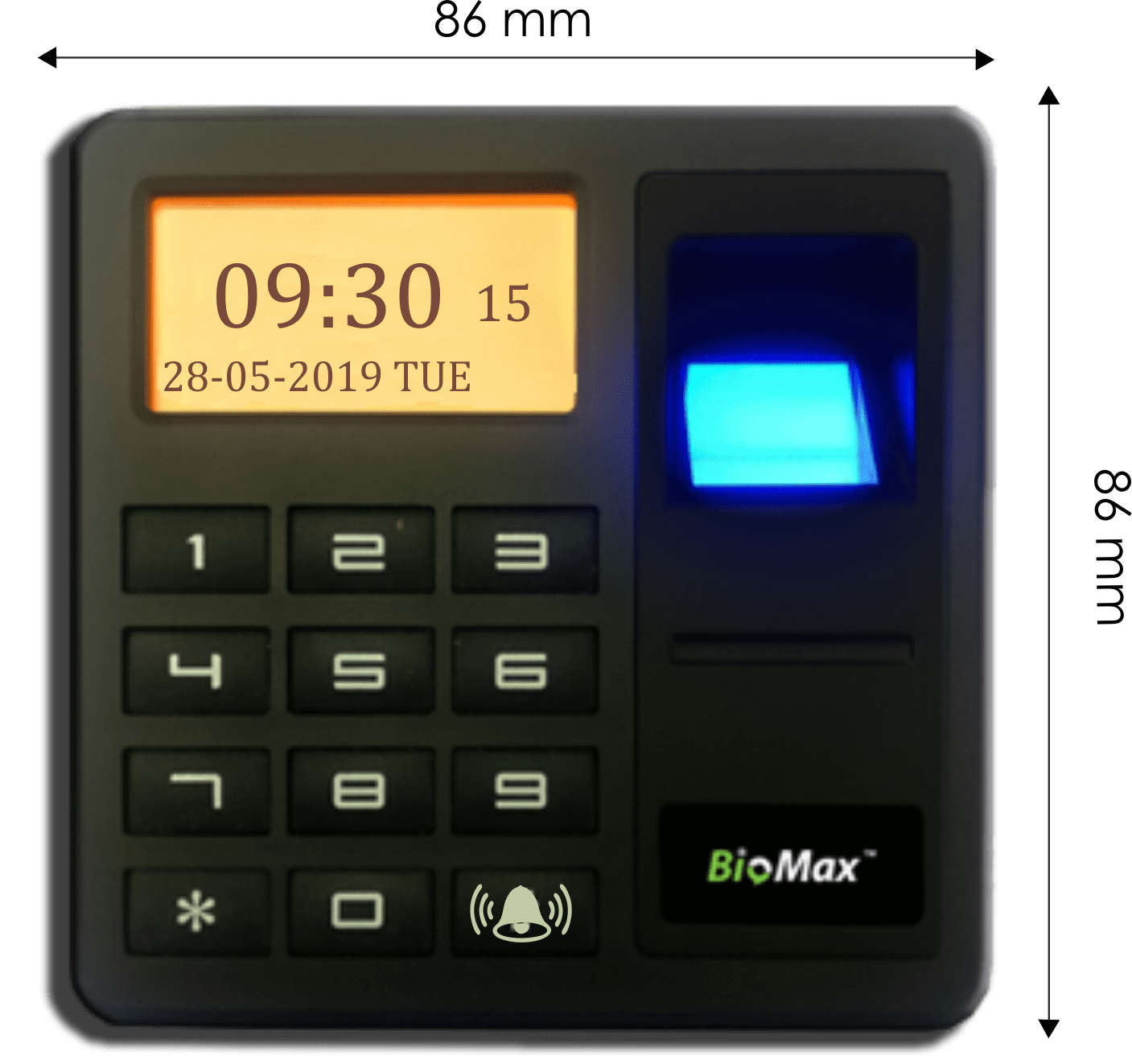 Biometric
FAR : <= 0.0001%
FRR : <= 0.01%
Door Controlled : 1
Linking Mode : Offline
Power & Environment
Relay : Yes
Operating Temperature : 0°c ~ 50°c
Power source : 12VDC/1.5Amp
Dimension : 86*86*26mm
5 Stars

4 Stars

3 Stars

2 Stars

1 Stars
If you finish the payment today, your order will arrive within the estimated delivery time.