IndigoFace 6
Perfect Solution to your Multi-Bio Attendance Needs
Molded by our experts we bring you an authentic looking face capture device with 4 inch touch screen for much better use. User Friendly Interface which has made, IndigoFace 6 the most accepted model in industries of the last decade. Built with finest material the toughness of this device never lets you down in the terms of durability. IndigoFace 6 have plenty of verification modes such as Face/Finger/Password/Card, Face+Finger/Password/Card, Finger+Face, Password+Face/Finger, Fingerprint, Face for better Security. Integrated with powerful processor for the faster & flawless performance. It powers the camera to capture the photo of user in less than 0.5 seconds. This makes IndigoFace 6 a remarkable model in terms of performance & speed. Immense Wi-Fi connectivity protocol to keep intact with your data on everyday basis. IndigoFace 6 delivers its best when it comes to communication protocols. An Industrial level flexibility to use both LAN and Wi-Fi.
IndigoFace 6 gives have USB port for getting log, Report and employee detail in USB drive & get report in remote location. Camera – Dual the Camera, Dual the verification strength for IndigoFace 6. A superb elite level camera to work as a verification as well as identification medium. The camera performance is leveled up to work under normal as well as low light. Our latest advancement Fingerprint Sensor specially built for verifying ink, mehndi or any color, even rough, dry fingers too. You can use it as Access Control to permit the entry and exit of the room. This device Supports RS485, Exit Switch, Wiegand Reader, Wireless Remote, No Touch sensor too.
Visible Light Indoor Facial Recognition
Storage Capacity
Face Capacity : 2000
Finger Capacity : 10,000
Card Capacity: 2000
Log Capacity : 2,00,000
Password Capacity : 2000
Max. User : 2000
Processor : 1.2Ghz Dual-Core
Communication
Wifi, USB
OS : Linux
Audio/Visual
LCD : 4″ TFT IPS Touch Screen
Resolution : 800*480 Pixel
Camera : 2 MP Binocular Camera
Language : English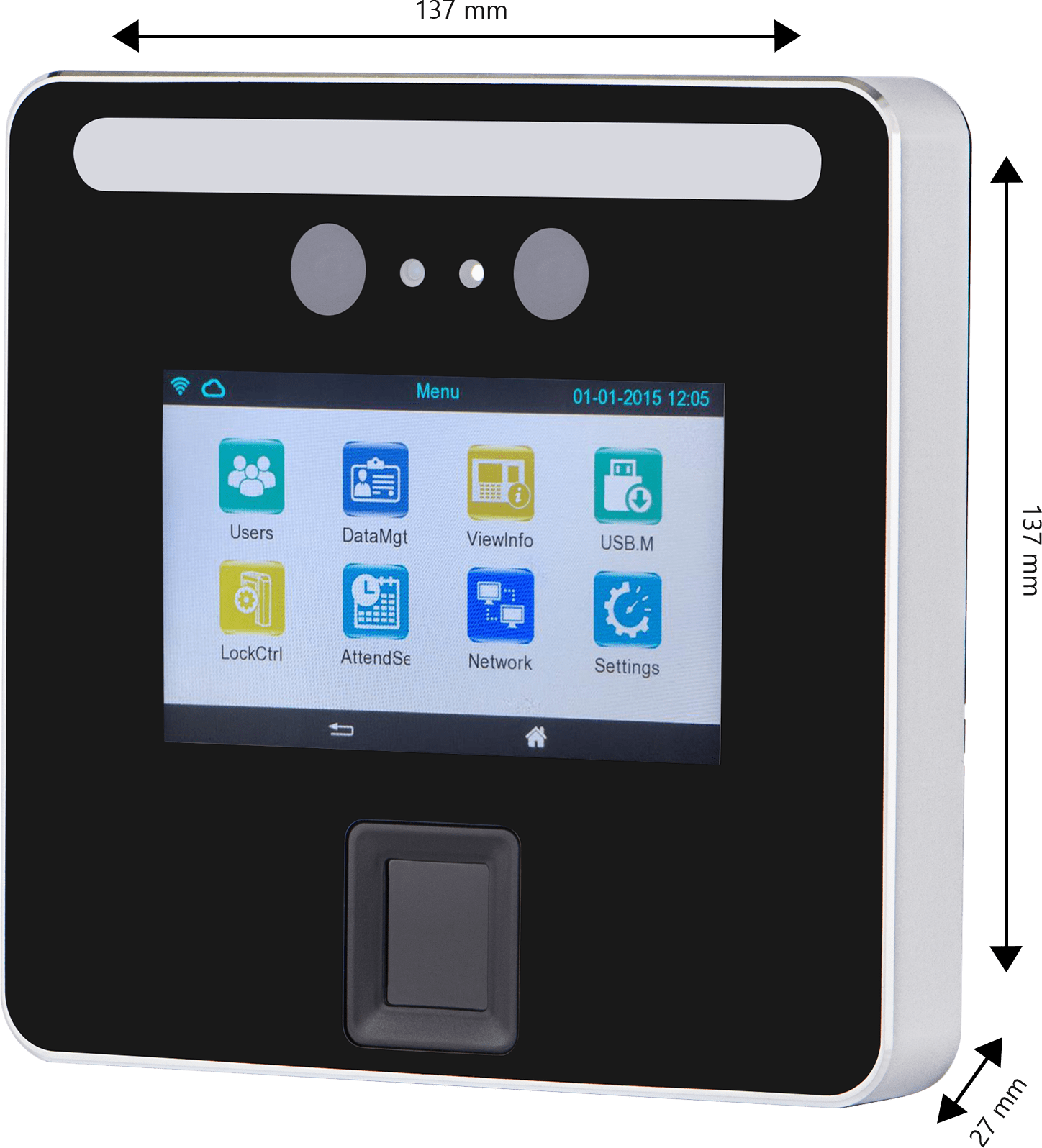 Biometric
Identification Mode : Face, Finger, Card, PIN
Access Control
Relay : Yes
Remote, Push Button, No Touch
Power & Environment
Working humidity : 20% – 90%RH
Operating Temperature : 0°C ~ 50°C
Power : DC-12V/2A
Dimension : 137 x 137 x 27 mm
5 Stars

4 Stars

3 Stars

2 Stars

1 Stars
If you finish the payment today, your order will arrive within the estimated delivery time.